Contributions by Joshua Omweno. Written by Keerti Kalluru
This year, CFK celebrated a milestone as 89 percent of the 2020 graduating class of Angaza Scholars excelled in the Kenya Certificate of Secondary Education (KSCE) exam with university-qualifying grades. This is the second consecutive year where 100 percent of the cohort scored well enough to earn direct admission to local universities or colleges through the National placement body KUCCPS.   
"The KCSE is a difficult and stressful exam for students under normal circumstances," expressed Joshua Omweno, the head of the Angaza Project and an Angaza Alumni himself. "Our scholars' performance this year in the face of constant uncertainty, heightened stress, and an irregular class schedule is a testament to their resilience and ambition."  
Since 2016, the proportion of Angaza graduates scoring university-qualifying marks has increased by more than 75 percent.  
Many of this year's graduates expressed their gratitude for the Angaza Scholarship and how it served as a stepping-stone to their post-high-school education and aspirations. They also discussed their interests, future plans, and the various learning experiences they had through the Angaza Project.   
Meet 

a few of 

our 2020 Angaza Scholarship Graduates:

Cheryl Atieno: 
Cheryl is the top scorer of this year's Angaza cohort. Her goal is to pursue medicine or a health-related course. She is passionate about helping sick people and would like to be a surgeon in the future.  
Favorite Angaza experience: Participating in community service at CFK's Nutrition Centre. "I got to interact with the clinicians, support staff, and patients," said Cheryl. "The experiences I got through the Angaza Project assisted me to work even harder and pursue the field of medicine." 
Elkana Akoko: 
Elkana plans to study marine technology at the Technical University of Mombasa, and he is also currently taking CFK computer classes. He enjoyed geography class in school, and his dream job is to be a marine.  
Favorite Angaza experience: The community service programs because "it was a great interactive platform with locals, and I pride myself in having the opportunity to help other people."  
Fortune Mohammed:  
Fortune plans to attend the University of Nairobi to pursue medicine, and he is also currently taking CFK computer classes. Fortune's interest in medicine comes from his caring nature. "I do not like seeing people sick and suffering, so I want to help them out of the pain they are in," Fortune said. "The Angaza team taught me life skills beyond education, like how to interact with other people, which will help me in my field."  
Favorite Angaza experience: When he volunteered at one of the project's outreach activities to sensitize community members about sanitation and proper handwashing.   
Isaiah Ahono:  
Isaiah plans to attend the Technical University of Kenya to study engineering. His passion is in civil engineering, and his dream job is to work at an architectural firm.  
Favorite Angaza experience: Volunteering with the Nutrition Centre, washing clothes, and feeding children. Isaiah hopes to continue serving his community in different capacities going forward, including helping children who lack funds to continue their education.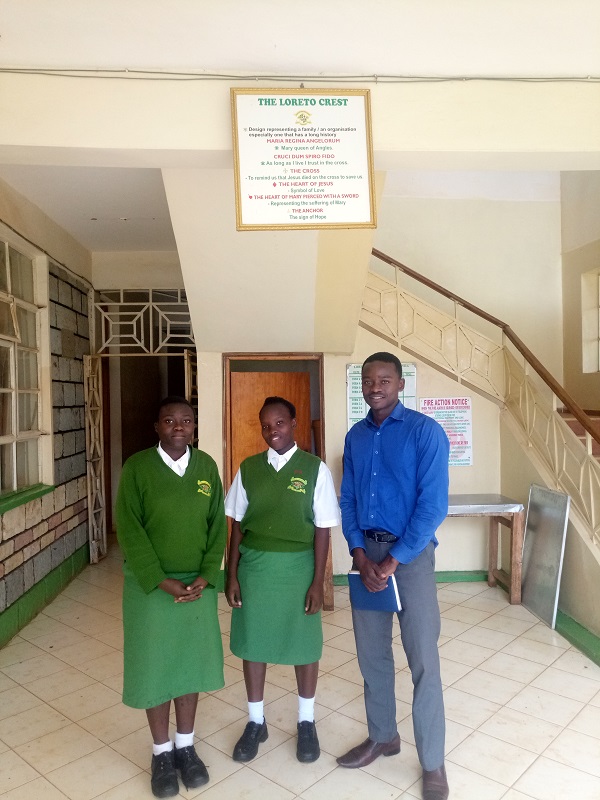 Immaculate Akoth:  
Immaculate is very passionate about music and plans to pursue a degree in music technology from Kenyatta University. She is interested in orchestral instruments like the harp, guitar, and piano. Her dream job is to teach music at either the high school or university level.   
Favorite Angaza experience: The mentorship program when everyone got together to share experiences from school and community service. She also enjoyed volunteering at the Tabitha clinic to help sick patients and also learn basic hospital operations.
Whitney Akinyi: 
Whitney has an interest in veterinary medicine and plans to pursue pharmacy at the University of Nairobi. She is currently taking CFK computer classes and also online programming classes from home. Since it is difficult to find a veterinary job in Kenya, Whitney hopes to get a scholarship to study veterinary medicine abroad in the future.  
Favorite Angaza experience: Participating in the mentorship programs and the computer classes. Mentorship gave her an opportunity to learn from the experiences of a diverse pool of professionals and discover what it takes to achieve personal goals towards professional attainment. 
Learn more about CFK's Angaza Project and help support future Angaza Scholars. 
"The Angaza Scholarship is Shaping My Future"
Twenty-year-old Elkanah is a brilliant young man who was born and raised in Kibera. As he prepares to begin his studies at Elmhurst University, he shares the impact CFK Africa's Angaza Scholarship had on his life.
CFK Africa's Paramedic Terms His Career a Calling
With poignancy and positivity, Nicholas Okumu, CFK Africa's Paramedic Operator invites us into his world. He has evacuated over 1,000 people in his career and was recently recognized for his efforts to provide emergency response following the 2022 Kenya elections.
The Process of Growth
Growth is a complex process both for individuals and organizations. CFK Africa Peacock Fellow Mitch Kimber reflects on the process of growth both for himself and for CFK after joining us at a pivotal point in our history and his...