Written by Hannah Bain. Contributions by Yunus Mohammed & Georgette Adrianne.
Despite the growing availability of COVID-19 vaccines worldwide, significant disparities in access remain. Out of the over 6 billion doses of COVID-19 vaccines administered worldwide, just 2% of them have been in Africa. As of October 13, over 55% of the population in the United States has been fully immunized against the virus. In Kenya, the ratio is less than 4%.
COVID-19 vaccines have been available in Kenya since March 2021, but access for many remains largely limited. In crowded urban areas, long lines and insufficient distribution sites have forced some to delay getting the vaccine. In rural areas, lack of infrastructure and formidable terrain have posed challenges for vaccine transportation and mobile clinics.
CFK's Community Outreach Strategy in Kiambu County
While beginning expansion work to seven new counties in Kenya and other informal settlements in Nairobi County, CFK recognized many of these difficulties and formed relationships with health officials across the country. After learning more about the organization and its capabilities, the Ministry of Health contacted CFK and asked for assistance in distributing COVID-19 vaccines in Kiambu County, one of CFK's new priority areas.
"The government is providing the vaccines, but they need help distributing them to the community," said Yunus Mohammed, CFK's Community Health Outreach Program Officer.  "At CFK, we found that many people work six or seven days a week from sun up to sun down and don't have time to take off and travel to a distribution site."
In response, CFK developed a new strategy, identifying where large groups of unvaccinated people work and establishing nearby, central locations where community members can access the vaccine in just a few minutes. As part of the effort, CFK is also training Community Health Volunteers on COVID-19 mitigation measures and water, sanitation, and hygiene to promote positive health-seeking behaviors throughout the community.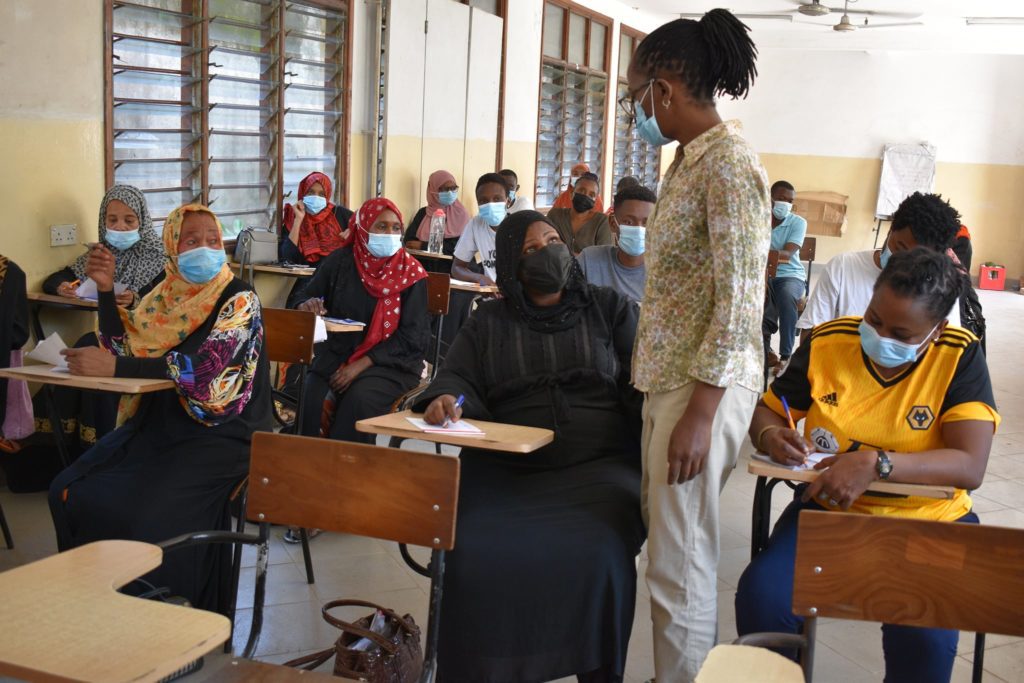 Addressing Vaccine Hesitancy
CFK is also supporting the government in organizing logistics to carry out this new strategy across Kiambu's 12 sub-counties. Yunus and his team also hope to expand their efforts to other informal settlements in Nairobi.
"The demand is there, and people are asking why we are not bringing the vaccines to more areas, but we simply do not have the resources to reach everyone right now," Yunus explained.
While demand for vaccines is widespread, myths and misconceptions still fuel vaccine hesitancy across the country.
"Two of the most common myths we still hear are that the vaccinations have a long-term effect on reproductive health and that pregnant or lactating women should not get the vaccine," Yunus said.
One of the most difficult pieces of misinformation to address is related to the variation of COVID-19 vaccines in Kenya. The country first received doses of AstraZeneca in early March and has now secured doses of Moderna, Pfizer, and Johnson and Johnson. With a new brand being introduced to the country every few months, many are under the impression that the vaccines are "still at the trial stage."
Partnering with Community Leaders
Yunus and his team have found that working with "gatekeepers" (i.e., community leaders), such as religious leaders, government authorities, and teachers, helps build community trust more effectively.
"We drive around with a van and speaker to spread accurate information, but we quickly realized that it is more important to have one-on-one conversations where you have time to answer people's questions," Yunus explained. "Now, we're focusing on equipping gatekeepers with accurate information and encouraging them to share that information widely with community members."
In addition to supporting vaccine distribution efforts, CFK provides schools with critical resources such as sanitary towels, masks, and thermal guns. These efforts help keep students and teachers safe and allow CFK to continue building foundational partnerships essential to an effective and equitable COVID-19 response.
Learn more about vaccine communication efforts and support our work.
"The Angaza Scholarship is Shaping My Future"
Twenty-year-old Elkanah is a brilliant young man who was born and raised in Kibera. As he prepares to begin his studies at Elmhurst University, he shares the impact CFK Africa's Angaza Scholarship had on his life.
CFK Africa's Paramedic Terms His Career a Calling
With poignancy and positivity, Nicholas Okumu, CFK Africa's Paramedic Operator invites us into his world. He has evacuated over 1,000 people in his career and was recently recognized for his efforts to provide emergency response following the 2022 Kenya elections.
The Process of Growth
Growth is a complex process both for individuals and organizations. CFK Africa Peacock Fellow Mitch Kimber reflects on the process of growth both for himself and for CFK after joining us at a pivotal point in our history and his...