Written by Sarah Waithira Ouma & Hannah Bain
The Story of Sarah Waithira Ouma
Raised by a single mother and with three sisters in the informal settlement of Korogocho, Sarah has always been acutely aware of the challenges girls face in disenfranchised communities. Understanding first-hand the threat of gender inequality, she made it her personal mission to work with and empower young women and girls to have education and self-efficacy.
When a position opened in CFK's Binti Pamoja Program, now the Girls Empowerment Program (GEP), in 2008, Sarah walked into the office and requested an application. After three different interviews, she was initially hired as an Assistant Program Officer. She then became a Program Officer and now serves as the GEP's Program Coordinator.
"I have not been stuck in one position," Sarah said. "Working at CFK has built my confidence and knowledge on the different programs within, thus giving me the opportunity for personal growth. Before starting with CFK, I had a college-level diploma, but now I have a university degree and am participating in another course. The organization gives me time to balance my studies and my work, allowing me to become a more informed and effective leader."
In her current position, Sarah refers girls to additional resources, meets with GEP mentors for updates on safe space sessions, writes reports on the program's progress and challenges, conducts parent meetings, and participates in home and school visits to follow-up on certain girls. Though Sarah leads the program, she has not lost her zeal for working directly with the girls.
One girl approached Sarah because she wasn't sure if she wanted to attend high school or vocational school. She ultimately decided to pursue catering school because she wanted to develop hands-on skills, and Sarah later helped connect her to job opportunities.
"The mentee eventually finished an internship and got a job, which is a big milestone," Sarah said. "Now, she will be able to support her child and her family with a stable salary and make her life better."
Tubonge – "Let's Talk"
Though CFK is not the only organization providing a girl-centered program in Kibera, Sarah believes that her team's approach is unique and holistic; there is a great deal of synergy between the GEP and additional programs within CFK .
"We give girls the opportunity to socialize, bond, and talk about any issues affecting them, but we also have many approaches for those who do not want to share their experiences out loud."
One of these non-verbal approaches is the talking box, referred to as Tubonge (Swahili for "Let's talk"). It operates like a suggestion box, inviting girls to anonymously share their experiences and apprehensions and ask questions in writing.
"The girls are much more open when they can share anonymously," Sarah noted.
Empowered by the talking box, one girl wrote about her struggles as a teenage mother, sharing that she was experiencing issues with her in-laws and unable to pay for her school fees. Before she decided to share through the talking box, none of the staff knew that she was a teenage mother. Fortunately, this young mother decided to sign her name to her talking box slip, allowing the GEP to follow-up with her and help pay for her education. She comfortably passed her primary school classes and is now in high school.
Managing Expectations & Creating Sustainable Impact
While Sarah enjoys supporting young girls in need, she also recognizes the need for setting boundaries so the GEP can continue to grow sustainably. 
"Sometimes expectations can be too high, and we do not want to foster a cycle of dependency," Sarah said. "We want to support the community, but we also want parents, students, and community members to take initiative and responsibility." 
Rooted in Kibera for nearly 20 years, CFK has worked with the community to generate sustainable impact and develop responsible, effective interventions.  
"When we want to introduce a new program, we reach out to the community and ask them what they think," Sarah said, emphasizing CFK's commitment to participatory development.  
While CFK is making progress in managing expectations and empowering community members, external factors such as political instability, gender inequality, sexual and gender-based violence (SGBV), and limited funding also pose challenges for large-scale progress.  
Adapting to COVID-19
Public health challenges such as the COVID-19 pandemic also continue to disproportionately impact vulnerable demographics, including girls in high-poverty communities. In addition to living in an overcrowded informal settlement with poor sanitation, girls in Kibera suffer from limited educational and economic opportunities and high rates of teenage-based pregnancy and SGBV.
Coronavirus-related lockdowns, school closures, and heightened financial struggles have exacerbated the challenges these girls already face.
Additionally, many estimate that teenage pregnancies and rates of SGBV will increase during the pandemic. The GEP has experienced this trend first-hand. Pre-pandemic, the program recorded two to three teenage pregnancies per month on average. Since the beginning of the COVID-19 pandemic, the program has recorded 21 new pregnancies in the community. This number could continue to rise alongside levels of poverty as many continue to struggle with unemployment and additional factors.
While the GEP has suspended or greatly limited many of its in-person group activities, it continues to provide support for girls in the community by conducting mentorship sessions with groups of less than 10 girls, offering free health check-ups and coronavirus information, leading handwashing demonstrations, encouraging girls to wash their hands at available handwashing stations, and providing girls with hygiene kits, which include underwear, soap, sanitizer, and sanitary towels. The program has also continued to identify teenage mothers, referring them to resources and providing them with emergency support.
Reducing Rates of Sexual and Gender-based Violence
As CFK prepares to enter a pivotal moment as an organization in 2021, Sarah hopes to expand the GEP's work to mitigate SGBV and achieve justice for more survivors.
"Right now, there is a lack of understanding about the magnitude of SGBV; many people still do not recognize it as illegal," Sarah said. "There is also a lack of consensus on what support to provide for survivors and what consequences to enforce for perpetrators. We hope to address this by taking a holistic approach and sensitizing the entire community – from matatu drivers to the local administration – on the issue of SGBV."
Sarah also hopes to help develop widely accepted paths to achieve justice for survivors, many of which are currently left with no counseling or support. In Kibera, few victims of SGBV report the crime to the necessary authorities. Those that do often have their case dropped due to bribes, family, or other pressures.
"The community already feels ownership over CFK, and we want to take this work to the next level," Sarah said. "We believe informing the community will empower them to take action and join us in the effort to reduce teenage pregnancy and rates of SGBV in Kibera and beyond."
Learn more about the Girls Empowerment Program, and consider supporting CFK to help us expand our work with girls in Kibera.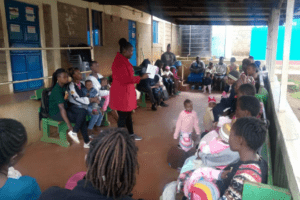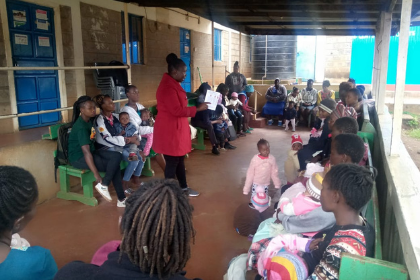 The Power of Lishe Bora: Meet Edith & Lexi
When Edith realized her daughter was underweight, she reached out to our nutrition program for help. Less than a year later, her daughter was successfully discharged and is now able to enjoy a happy, healthy childhood.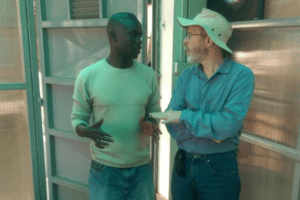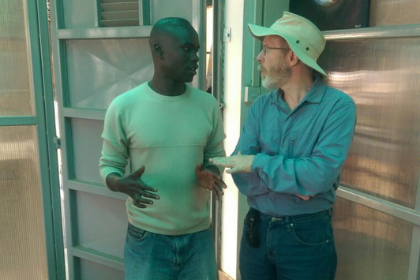 Learning to Listen: Advisory Council Member Steve Arnold
With experience traveling and living in informal settlements in Africa, India, and China, our newest Advisory Council member, Steve Arnold, reflects on the importance of social context and listening in effective development work.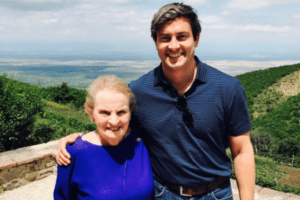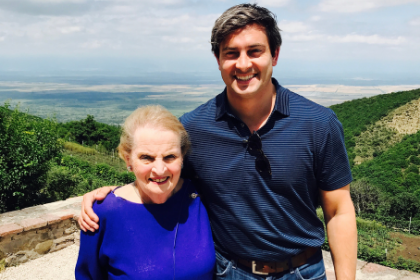 What we learned from our friend Madeleine Albright
We were fortunate to have Madeleine Albright as a member of our Global Advisory Council. Co-founder and board chair, Rye Barcott, reflects on his friendship with Secretary Albright and shares three lessons we can learn from her life of service.