Every mother wants their baby to have a safe and seamless entrance into the world, but for some this isn't necessarily the norm. The Centers for Disease Control and Prevention (CDC) stresses the importance of women receiving healthcare services before and during pregnancy to decrease the risk of complications. But what happens when a woman doesn't have access to healthcare services? According to UNICEF, only 58% of women in Kenya access at least 4 antenatal or prenatal doctors visits, leaving at least 42% of women at a higher risk of pregnancy related complications which can be life-threatening. Gladys Mmboga, a first-time mother from Kibera, knew she wanted to have her baby boy in a health facility, but never anticipated the support system she found at Carolina for Kibera (CFK).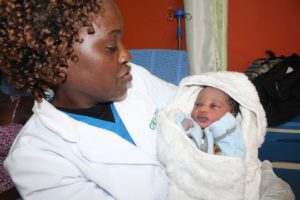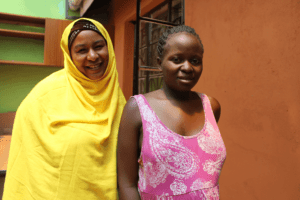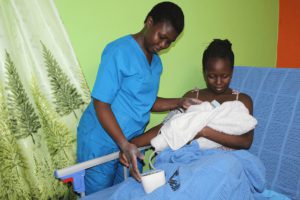 Changing the Maternity Game in Kibera
CFK utilizes a comprehensive network of Community Health Volunteers (CHVs) who identify pregnant women in the community and promptly refer them to Tabitha Maternity Clinic for services. Gladys came to CFK by way of local CHV, Ashya Masoud. Ashya was performing routine house visits in her assigned village when she met Gladys, who was already in her third trimester. Gladys was quickly enrolled in the CFK Maternity Project, which provides healthcare resources to mothers for the first 1000 days of their child's development (from conception to about two years old).
With the help of Ashya, Gladys received regular antenatal care until September 23rd, 2019 when she experienced severe abdominal and back pain and Ashya quickly referred her to Tabitha Maternity Center for delivery. Unlike women who deliver at home by traditional birth attendants, Gladys was monitored by skilled midwives, reducing her risk of complications even further. Hours later Gladys delivered Ivan, a sweet and healthy baby boy. Weighing in at 3 Kgs (just under 7 lbs) Ivan was given a great chance at an easy entrance into the world because of the diligence of both Gladys and Ashya.
At CFK we are happy to achieve our co-founder Tabitha's dream of taking care of women and children by ensuring that mothers give birth in quality health facilities attended by skilled health professionals. We celebrate happy outcomes like Gladys's because we know that there are many who struggle to access healthcare during pregnancy and delivery. In addition to antenatal follow ups, CHVs are trained to identify and prevent home deliveries, avoidable cases of malnutrition, and complications that lead to infant and maternal death.
A month after delivery, Gladys is thriving in this new phase of life and baby Ivan is also doing very well! When we asked Gladys if she had any advice for other expectant moms, she told us,
"I would urge everyone to visit Tabitha Maternity Clinic because the facility is accessible, services are timely, and the staff [is] friendly."
We truly believe that it takes a network of support to bring the next generation into the world. CFK is fortunate to have a mix of dedicated CHVs and skilled healthcare professionals that passionately prioritize infant and maternal health.  So today, we applaud all of the moving parts that help healthy moms bring healthy babies into Kibera!
The Process of Growth
Growth is a complex process both for individuals and organizations. CFK Africa Peacock Fellow Mitch Kimber reflects on the process of growth both for himself and for CFK after joining us at a pivotal point in our history and his...
Hand Washing for Children, by Children
This summer, CFK Africa Peacock Fellow Sarah Lebu incorporated elements of child-centered design to help improve hand washing behaviors and demonstrate how children can be powerful agents of change in their schools, households, and communities.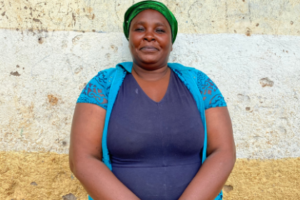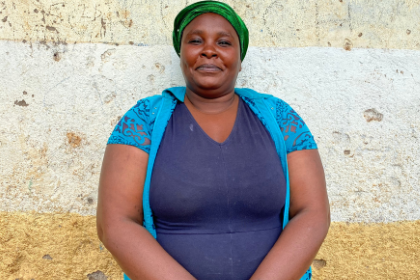 Pursuing a Calling for Childcare: Meet Esther
Growing up in Kibera, Esther realized she had a calling for childcare at a young age. Now, she has more than 20 years of experience as an ECD teacher supporting children's physical and cognitive development.