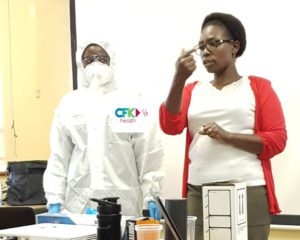 Early last week, CFK's Clinic Staff and Community Health Volunteers received training from the CDC (pictured here). They are putting that training to work debunking myths and promoting positive hygiene education throughout the community. Staff are installing handwashing stations throughout Kibera and are now expanding to individual households.
As with many regions globally, Kenya faces a severe shortage of medical protective gear for frontline responders. We were fortunate to have Susan Tilson, a good Samaritan and social entrepreneur based in Nairobi, offer her services to locally manufacture high-quality, reusable face masks. This weekend, CFK received our first shipment of 800 masks with another 200 on the way. Susan made a lovely video that shows the process.
Donate now to support CFK's frontline health care staff working to stop the spread of COVID-19 in Kibera. Your donation will directly support personal protective equipment, hand washing stations, soap and food and supply deliveries to our most vulnerable beneficiaries.
The Process of Growth
Growth is a complex process both for individuals and organizations. CFK Africa Peacock Fellow Mitch Kimber reflects on the process of growth both for himself and for CFK after joining us at a pivotal point in our history and his...
Hand Washing for Children, by Children
This summer, CFK Africa Peacock Fellow Sarah Lebu incorporated elements of child-centered design to help improve hand washing behaviors and demonstrate how children can be powerful agents of change in their schools, households, and communities.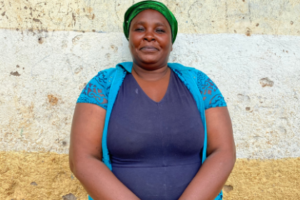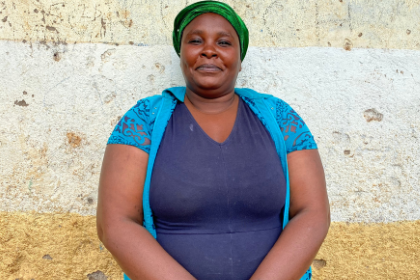 Pursuing a Calling for Childcare: Meet Esther
Growing up in Kibera, Esther realized she had a calling for childcare at a young age. Now, she has more than 20 years of experience as an ECD teacher supporting children's physical and cognitive development.