Contributions from Melvin Ochieng, Written by Hannah Bain
Born, raised, and educated in Kibera, Melvin Ochieng connected with CFK during its early years. Now, 15 years later, he works as a Research Scientist at the Kenya Medical Research Institute (KEMRI), one of CFK's largest research partners. 
Jennifer Coffman, a long-standing CFK Board Member and friend of Melvin's family, connected Melvin to CFK co-founder Salim Mohamed in 2005. At the time, Salim was serving as CFK's Executive Director, and Melvin was halfway through a university degree in biochemistry. Impressed by Melvin's knowledge and initiative, Salim invited him to work as a data collector with CFK during the break between his second and third year at university. 
"As part of its effort to collect data on perceptions and knowledge of HIV/AIDs and sexual and reproductive health in Kibera, CFK trained young people like me and then sent us into the community to gather information from residents," Melvin said. "I had always known that I wanted to work in research, which is part of the reason I chose to study biochemistry. As a data collector with CFK, I got to take research into a real-life setting." 
In addition to working as a data collector with CFK, Melvin also interned at Tabitha Medical Clinic and participated in additional CFK projects, such as community clean-ups. When Melvin completed university, Salim connected him with KEMRI – a company that had "always been on [Melvin's] radar" – and recommend him for a full-time position. 
Combatting COVID-19 at KEMRI
Melvin started work with KEMRI as a Data Clerk but quickly landed a role as a Research Scientist. Before the pandemic, most of his work consisted of building capacity at the National Influenza Centre, writing reports, and ensuring that the lab operated smoothly.  
"When I first started with KEMRI, they were still doing quite a number of projects with CFK, and now we are working on testing COVID-19 samples, many of which are coming from Tabitha Medical Clinic," Melvin noted, finding connections to CFK more than a decade later.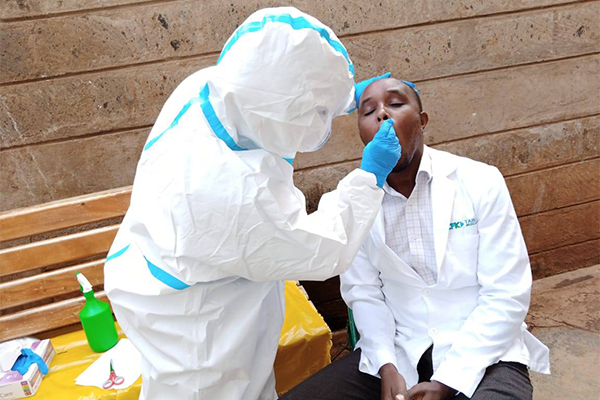 Now, Melvin's days are "dominated by COVID-19." He and his team work to test COVID-19 samples and compile and distribute results to contact tracers and the Ministry of Health. Despite the challenging circumstances, Melvin finds fulfillment in his work every day. 
"At the end of the day, we feel like we are making a difference, doing our part, and helping the public," Melvin said. "We're collaborating with the government to test as many people as possible. The work we do goes a long way in guiding government policy, especially in terms of COVID." 
Lessons Learned from CFK
In addition to combatting COVID-19, Melvin is also completing a Master's degree in Microbiology, and he hopes to one day pursue his Ph.D. abroad. While he seeks to continue expanding and refining his analytical skills, Melvin also recognizes that the early lessons he learned about research through CFK will never grow obsolete. 
"CFK is different because they are in touch with the people of Kibera, the community itself, and the life that the people live," Melvin said. "Some of my colleagues at KEMRI previously worked as community interviewers with CFK. Even now, when they walk through the community, they are loved and people reach out to them. CFK is doing something right, and if they keep doing what they're doing, they will be here for a long time." 
Learn more about our research partnerships and invest in knowledge generation. 
"The Angaza Scholarship is Shaping My Future"
Twenty-year-old Elkanah is a brilliant young man who was born and raised in Kibera. As he prepares to begin his studies at Elmhurst University, he shares the impact CFK Africa's Angaza Scholarship had on his life.
CFK Africa's Paramedic Terms His Career a Calling
With poignancy and positivity, Nicholas Okumu, CFK Africa's Paramedic Operator invites us into his world. He has evacuated over 1,000 people in his career and was recently recognized for his efforts to provide emergency response following the 2022 Kenya elections.
The Process of Growth
Growth is a complex process both for individuals and organizations. CFK Africa Peacock Fellow Mitch Kimber reflects on the process of growth both for himself and for CFK after joining us at a pivotal point in our history and his...