With your help, we're
making an impact.
total patient
visits at
Tabitha Clinic
youth served at the
Young Health and
Wellness Centre
youth reached with
vocational skills and
financial literacy
training
girls served by the
Girls Empowerment
Program
Numbers are based on 2021 impact data.
Working in Eight Counties
Though we remain to furthering our work in Kibera, we realized that our services could impact thousands more living in some of Kenya's most challenging environments. In 2021, we began expanding our public health and youth leadership development platform to additional informal settlements in Kenya and across seven new counties in Kenya: Kajiado, Kiambu, Kilifi, Kisumu, Machakos, Mombasa, and Nakuru.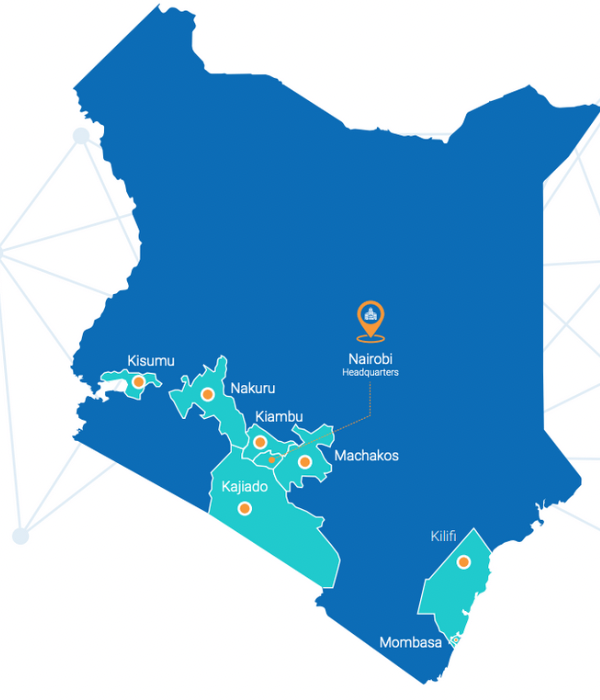 Meet Jeffrey
Jeffrey, 23, serves as a Youth Peer Provider for the Youth Empowerment Program (Young Health & Wellness). Born and raised in Kibera, Jeffrey overcame a myriad of challenges to complete his education and hone his passion for journalism. He came to CFK in high school through one of the health outreach sessions facilitated in his school.
"After completing my high school diploma, I followed up with one of the volunteers from CFK who used to come to our school on my interest to also volunteer as a youth peer provider, and the rest is history."
 Jeffrey was provided opportunities to build upon his passions while continuing to serve as a mentor for his community. As a volunteer, he facilitated radio shows for youth focused on sexual and reproductive health, a pertinent topic today.
"This exposure gave me the drive to seek a scholarship for me to pursue a college diploma in journalism and volunteer further part-time with a local radio station."
Jeffrey now works as a Field Journalist at KTN News, one of the leading media stations in Kenya, and "cannot wait to see where this new phase of my life takes me. Maybe I will be presenting the news, who knows?"